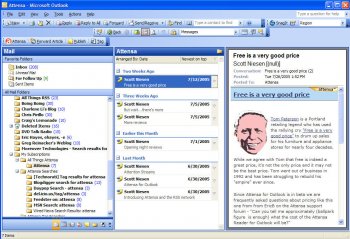 Tens of thousands of enterprise business users have put Attensa for Outlook 1.5 to the test. This new version is built on top of the 1.5 code that has been enterprise hardened and meets the requirements of the most demanding IT pros for an RSS reader that means business.
What's new in 2.0?
Deep connectivity with the Attensa Feed Server for seamless synchronization across Attensa for Outlook, the Attensa AJAX web reader and mobile devices and more meaningful attention analytics and reporting.
A mini player that lets you listen to audio and watch video content in Outlook, directly in the River of News. As more businesses take advantage of on demand video and audio to create and deliver specialized information, Attensa for Outlook let you choose how you want to consume rich media content. You can get instant access to the content using the new River of News player. Or, you can access the content when it is most convenient using the Attensa for Outlook Pod Catcher. The Pod Catcher automatically downloads audio and video attachments and puts them in a clearly labeled playlist in Windows Media Player or iTunes.
A desktop alert toaster keeps lets you track fast breaking business information whether you are working in Outlook or not. This Desktop Alert is smart. You can pick the feeds you want to be alerted to as soon as new information is available. When multiple feeds are updated, the alert box works the way you want it to work. It groups your alert notices so you can see at a glance when new information is available without being driven to distraction with constant interruptions.
Oh...and all of this is gratis. Did we mention that? We have made the move to a free download coupled with a premium support model. Premium support is $24.95 a year and gives you guaranteed response time to your issue and priority treatment. If you have purchased a previous version of Attensa for Outlook you are instantly covered with premium support.
Download Attensa for Outlook 2.0 now. http://download.attensa.com/install_attensa.2.0.exe